Journal of Biology, Agriculture and Healthcare is a peer reviewed journal published by IISTE. The journal publishes original papers at the forefront of Agriculture, Biology and Healthcare research. The journal is published in both printed and online versions. The online version is free access and download.
IISTE is a member of CrossRef.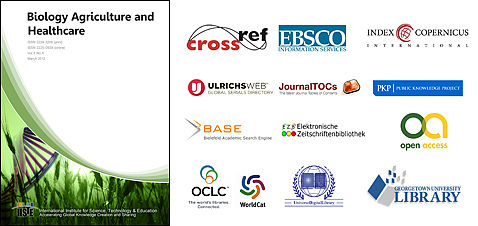 Announcements
Call for Paper Submissions & Paid Reviewers / Index

Paper Submission:
Please follow the following two files to prepare your paper, then send it to JBAH@iiste.orgIndex of this journal:

EBSCO (U.S.)
Index Copernicus (Poland)
Ulrich's Periodicals Directory (ProQuest, U.S.)
JournalTOCS (UK)
PKP Open Archives Harvester (Canada)
Bielefeld Academic Search Engine (Germany)
Elektronische Zeitschriftenbibliothek EZB (Germany)
SCI-Edge (U.S.)
Open J-Gate (India)
OCLC WorldCat (United States)
Universe Digtial Library (Malaysia)
NewJour (Georgetown University Library, U.S.)
Google Scholar

The IC Impact factor value of this journal is 5.09

The publication charge of this journal: 160 USD (online publication only) or 165 USD (online publication + 2 hard copies)

Posted: 2011-11-04
Vol 8, No 22 (2018)
Table of Contents
Articles
| | |
| --- | --- |
| Effect of Fermented Lagenaria (Adenopus breviflorus) Fruit Extract on the Heamatological and Serum Biochemical Indices of Broiler Chickens | PDF |
| Nworgu, F.C, Oladipo, T.A, Nwufoh, O.C, Adeoye, Y.D, Adebayo, M.D, Ajayi, J.O | 11-18 |
Paper submission email: JBAH@iiste.org
ISSN (Paper)2224-3208 ISSN (Online)2225-093X
Please add our address "contact@iiste.org" into your email contact list.
This journal follows ISO 9001 management standard and licensed under a Creative Commons Attribution 3.0 License.
Copyright © www.iiste.org