The scopes of the Journal of Economics and Sustainable Development (JEDS) include, but not limited to, Economic development; Sustainability management; Industrial sector; Corporate governance, public policy; international organizations; Environmental economics; Food systems, and populations. The journal is published in both printed and online versions.The ambition of JEDS is to become a recognized top tier journal, acclaimed for redirecting international economics and sustainability research and for defining new directions.
IISTE is a member of CrossRef.
The DOI of the journal is:  https://doi.org/10.7176/JESD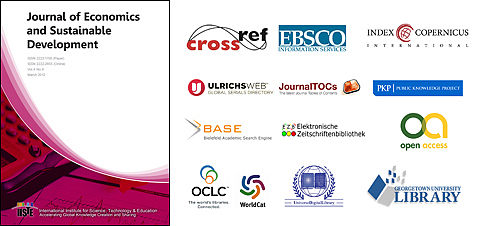 Announcements
Call for Paper Submissions / Index

Paper Submission:
Please follow the following two files to prepare your paper, then send it to JESD@iiste.orgIndex of this journal:

EBSCO (U.S.)
Index Copernicus (Poland)
Ulrich's Periodicals Directory (ProQuest, U.S.)
JournalTOCS (UK)
PKP Open Archives Harvester (Canada)
Bielefeld Academic Search Engine (Germany)
Elektronische Zeitschriftenbibliothek EZB (Germany)
SCI-Edge (U.S.)
Open J-Gate (India)
OCLC WorldCat (United States)
Universe Digtial Library (Malaysia)
NewJour (Georgetown University Library, U.S.)
Google Scholar

The IC Impact factor value of this journal is 7.15

The publication charge of this journal: 160 USD (online publication only) or 165 USD (online publication + 2 hard copies)

Posted: 2011-06-03
Vol 14, No 16 (2023)
Table of Contents
Articles
Paper submission email: JESD@iiste.org
ISSN (Paper)2222-1700 ISSN (Online)2222-2855
Please add our address "contact@iiste.org" into your email contact list.
This journal follows ISO 9001 management standard and licensed under a Creative Commons Attribution 3.0 License.
Copyright © www.iiste.org