The journal is a peer-reviewed, international and interdisciplinary research journal.
The scope of the journal includes, but not limited to, cultural tourism, hospitality and event management, new technology and growth of tourism sector, tourism, development and sustainability, ecotourism, creative tourism, experiential tourism, sports industry, sports management, etc.
The journal also covers interdisciplinary research across the topics on development, education and sustainability.
IISTE is a member of CrossRef.
The DOI of the journal is:  https://doi.org/10.7176/JTHS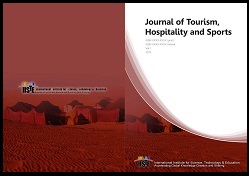 Announcements
CALL FOR PAPERS

The journal is a peer-reviewed, international and interdisciplinary research journal. The journal follows a monthly publishing schedule and welcomes original research articles, reviews, reports and case studies.

The jouranl template can be download here.

Manuscripts for publication must be submitted to JTHS@iiste.org in MS WORD format with a clear declaration indicating that,

the submission is original,
the submission is not being considered elsewhere,
there is no conflict of interests and,
the authors agree to grant the first editing / publishing rights to the journal upon acceptance.

Posted: 2015-01-07
Vol 41 (2019)
Table of Contents
Articles
| | |
| --- | --- |
| Promoting Ecotourism Destination at Jungutan Village, Karangasem, Bali | PDF |
| Ida Ayu Astarini, Adytia Nur Heriyatmo, Ni Komang Yunik Mahardikayanti, Made Erna Susanti, Ida Ayu Made Dwi Utari, Ni Wayan Rai Sukmadewi, Ni Made Winda Savitri Dewi, Ni Wayan Nonik Endrayanti, Wahyu Puji Lestari, Ni Kadek Ariani Dewi, Sagung Istri Santhi Permata Sari, Cindy Larini, Ni Komang Ayu Ariska Dwi Cahyani, Anak Agung Ayu Widiya Ari Santi, Komang Ayu Diantari | 8-14 |
Paper submission email: JTHS@iiste.org
ISSN (Paper) 2312-5187   ISSN (Online) 2312-5179
Please add our address "JTHS@iiste.org" into your email contact list.
This journal follows ISO 9001 management standard and licensed under a Creative Commons Attribution 3.0 License.
Copyright © www.iiste.org